…Photographer
By Tracie Howe, Seattle area wedding photographer
Many people would argue that it doesn't seem that hard to photograph a wedding, so why should it be so expensive? Well, there is a lot that goes into it. Not only on the actual wedding day, but before and after, not to mention all the training and skills involved. The wedding day is only when everyone sees the photographer doing work. I don't want to get into the pre and post wedding work, because it's not as much fun (in my opinion). But I do want to shed light on what work DOES go into a typical wedding day. I can only speak from my own experiences.
The traditional, North American weddings that I've shot (and attended) have all been pretty similar in respect to the schedule, the photo expectations, the obstacles, etc. Many of you know what it's like to attend or be in a wedding, but here I will give you my perspective as the photographer… You might be surprised at how much us wedding photographers do!
First, if I haven't already scouted out all of the locations for the entire day, I make sure to get this done before I even begin taking pictures. Why would I do this? Well, maybe I'm paranoid, but I want to know what to expect. Sometimes there are A LOT of locations to visit. One wedding involved 4 different locations, all of which were not walking distance from each other. Another advantage of this is simply knowing how to get to each place. I would not want to get lost on the way to the ceremony!
There are many challenges involved with shooting in a variety of locations. One example would be a dark reception hall.  If I can see it ahead of time, I may have an opportunity to set up lights around the room. This will save me the effort later when I will be much busier.
I'll justify my pre-wedding preparations with another example. Let's say the ceremony is taking place inside a dark church. I will try to find out in advance if flash is allowed, because it is often not. Some churches don't allow cameras at all, and photographers may be limited to shooting from just outside the door! This kind of knowledge helps me decide how I will overcome such problems. In the case of a dark church where flash is not allowed, like in the photo below, I would make sure to have my tripod ready (know where I would be able to put it), my fastest lens, and a high ISO. This is all geeky photo talk, but it's important stuff! Anyway, I check out all of the locations to make sure I know how I'm going to shoot there. It helps me think about how to prepare, rather than just flying by the seat of my pants.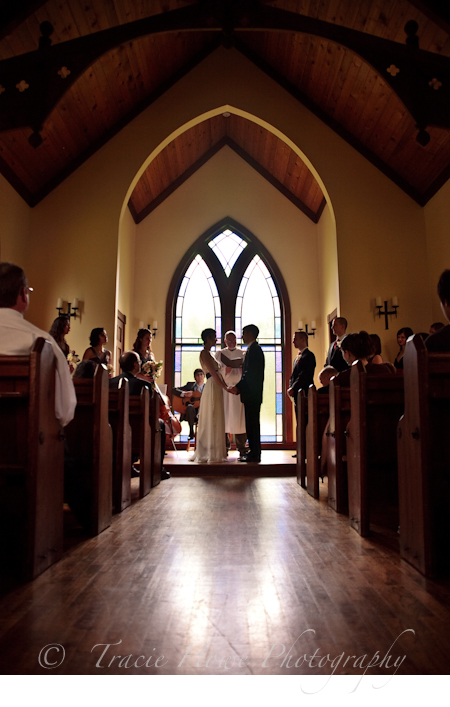 pinimageWhen I actually do start shooting, I might begin with shots of the ceremony and reception spaces, along with some detail shots of each place. This way I can capture everything in it's original (and usually more presentable) state, and I don't have to worry about people being in the way. I will have plenty of opportunities later to capture people in these places.
After the "prep work" is done, I finally see the couple. Depending on the schedule and the couples' preferences, I will take "getting ready" shots of them and wedding party. This is a nice way for me to gradually introduce myself to those I will be around throughout the day. It really helps everyone get used to my presence. This also allows me to become more comfortable with everyone.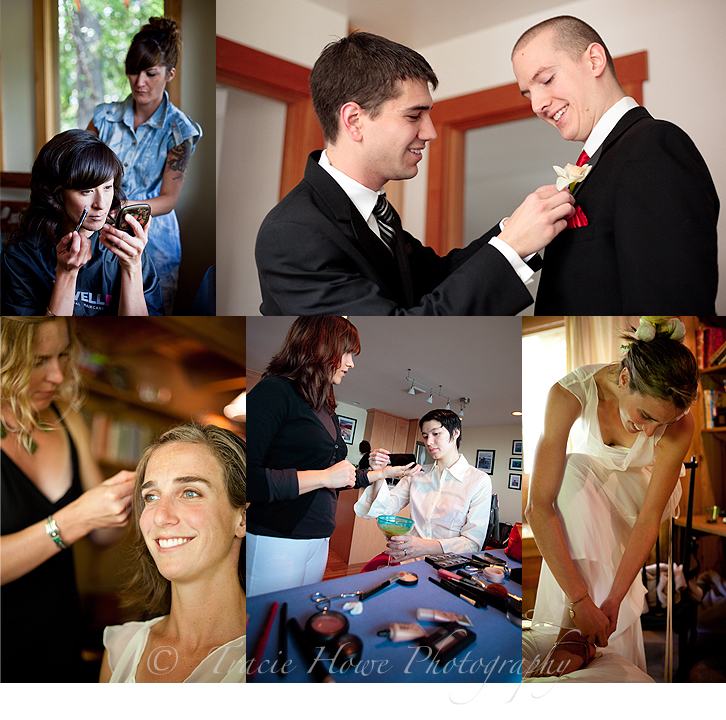 pinimageNext can be either the wedding or the group photos. The decision for when to take group shots varies for each couple. My personal preference is to do it after the ceremony, or at least WELL before it. Most people think they can get this done quickly, but in my experience, taking pictures a little before the wedding, is always a rushed affair. Rushing = stress = unhappy people. So, I will always recommend doing group photos after the ceremony or at least an hour and a half before, simply to avoid unnecessary stress for all involved.
Unfortunately, when you throw any number of people together for photos, it can turn into chaos no matter what! Taking group photos after the ceremony at least eliminates the stress of rushing.
There are several factors that add to the often unavoidable chaos:
First, people blink at different times. As simple as it sounds, it's one of the most difficult things to avoid. I have a few tricks to TRY to avoid this.
Second, everyone has a camera now! This is a sore point with most photographers. I won't get too into it here, but there are two main problems. Either people are taking their own pictures at the same time as you (the professional, paid photographer), leading to straying eyes and more distraction; or they want the professional photographer to take a picture with their camera, leading to much time wasted. Other cameras simply interfere with my work as the hired photographer. My solution for the camera problem is to mention it beforehand to the couple. They are usually understanding on this point, and agree to not allow other pictures to be taken during my designated time.
Third, people get really caught up in the social energy that happens when they are thrown together in groups. They become chatty, distracted, and sometimes annoyed. It's natural for this to happen, but difficult to work with.
My solution for the general chaos is to be confident and instructive. Groups of people respond to leaders, and you have to be a sort of leader during the group photos. That's what I had to do with a group of about 50, in the photo just below.
On to the ceremony.
Moments just before and after the ceremony can be tricky. If you are trying to capture the procession, you might be running in front and then behind to avoid missing anyone walking down the aisle. An assistant or second shooter really helps here! Both photographers can be stationed strategically for when the procession comes in and when they leave.
I find it best to ask the couple how involved they want me to be during the ceremony. If they want me right in the action, then I can get as close as any other guest in the front row, but I try not to block anyone's view. If they want me to be less invasive, I usually pick a few spots towards the back and stay relatively still.


pinimageAfter the ceremony, and after most of the group shots (assuming they are scheduled after the ceremony), most people head off for cocktails at the reception. If I have plenty of time, I will first get some shots with the bridal party. This excitable group is usually very cooperative and fun, so this time can make for some great photos!
Then I take photos with just the couple together. They seem to be especially sweet and lovey-dovey after the ceremony, so this is another point for doing photos later.


pinimageWhen it's time for the reception, I try to beat the couple to that location so I can capture them arriving if they are planning a grand entrance. Another advantage of having an assistant or second shooter, would be that they could make sure to be there in case you don't make it in time.
Receptions can vary quite a bit. I try to get a fairly detailed schedule from the couple so that I know when the note-worthy moments will be happening, such as the father/ daughter dance, or the bouquet toss. This way I can make sure that I am not on one side of a very crowded room while the cake is being cut on the other side. Another photographer is helpful here too, of course!


pinimageSchedules tend to be pretty lose when it comes to parties, so there has to be a lot of communication. It also helps to be in touch with the DJ or planner, who is usually more informed about any schedule changes.
In between all of the important photo ops, I go around to different tables and mingle with the crowd. I'm taking pictures of as many of the guests as I can. When all of the scheduled events are over, I make sure I've covered everything, including funny shots of people dancing.


pinimageI hang around a little longer, making sure I haven't missed anything, and then I ask the couple if they need anything else. The photo just below shows one such occasion, when the groom wanted some shots of the boys smoking cigars.


pinimageWhen they don't need anything else, I am done for the evening. I usually end up working way harder than I probably should, but it's worth the photos I will come away with in the end. When the day is really packed, I usually forget to eat or get off of my feet until well after the reception dinner (which I always make sure to eat eventually! 🙂 ). This entire day of work leads to pure exhaustion. If I can shut my overly stimulated brain down for the night, I will crash upon hitting my pillow.
If I am not too tired the next day, I usually start processing the photos. But that is an entirely different kind of day. Not nearly as fun, and always happening over a period of days or weeks.
So, that's what it's like for me!
Keep in mind, I don't claim to be an expert on this subject, I simply want to share what has been typical for me. In fact,  I welcome input from other wedding photographers to expand on what I've said. It can be a very challenging job, because you are never truly in control, and you have to be prepared for anything that could happen. In my opinion, however, it is the best job and I couldn't imagine doing any of the other work involved with a wedding!
…Planner
By Elaine Roberts at www.eventsbyelaine.com
For a wedding planner, the day of the wedding is when we get to see all the details finally come together in a beautiful and memorable way.  Most people see a wedding planner as a glitzy and glamorous job.  But reality is very different from what you see in the movies.  Most planners work 12 – 14 hours the day of the wedding, with most of that being on their feet.
Unless you are in the event industry, few people realize how much work goes into making a wedding happen.  The day of the wedding, the first thing I do is check-in with the bride.  Sometimes this takes a few minutes; sometimes this takes hours.  If I walk into the hotel suite or brides room and realize that the bride is stressed and mom is crying, my job is to help everyone relax so they can enjoy the day.  This might be making a few phone calls or emails or it could mean taking on a project that the family was going to handle.
Once I know the bride is happy, I head to the reception venue.  I like to verify that the rentals have arrived and that the catering staff is setup and have everything they need.  Then, the fun begins.  I start setting up and decorating all the reception tables.  If I'm lucky, the family has drafted some volunteers to help, but that isn't a guarantee.  From there, I meet the florist to take the flower delivery.   The centerpieces and arrangements are placed at the venue and I take the bouquets, corsages and boutonnieres to the ceremony site.
At the ceremony site, I track down all of the bridal party and family members to pin on their flowers, while the photographer take pictures.  I talk with the photographer and typically will stay with them for a while to help round up people and style the bride's wedding dress until it is time for the bride to go into hiding.
Once the guests have been seated, the fun begins.  I cue the musicians and the officiant.  I send the groom and groomsmen down the aisle followed by the family members.  The bridesmaids and bride soon follow.  As the ceremony ends, I wait at the back to open the doors and escort the bridal party to a private location to begin photos.
I then leave and head to the reception site to make sure the candles are lit and everything is ready for the guests.  I may also be transporting flower arrangements, wedding gifts, and personal items for the bridal party.  As soon as the bridal party arrives, I line everyone up correctly and cue the emcee to start the announcements.
As the bride and groom are entering, I quickly check in with catering to make sure that food is ready to be served to the bride and groom.  If it's not, I handle it myself.  The rest of the reception is filled with finding and cueing all the appropriate people for the events – cake cutting, toasts, dances, bouquet, and garter.  These people include the emcee, photographer, videographer and immediate family members.  It can be a full time job just tracking down everyone.
As the evening winds down, the bride and groom do a last dance and head off to their honeymoon.  But, for the wedding planner, more work remains.  The remains of the cake have to be packed and distributed to a family member.  The wedding gifts sent home along with guest book and personal items.  The décor has to be removed and packed up to be sent home with the family or left for the florist or rental company.  All the linens have to be bagged and the trash taken out.  Sometimes, it is even required that the floor be swept.  By the end of the day, I have been on my feet for a long time and am ready to go home.  Just like the bride, I will enjoy seeing the photos from the photographer and remembering what a beautiful day it was.
…Lighting Designer
By Len Woelfel at www.chicagolightingdesign.com and www.chicagolightingdesign.com/cgi-bin/blog
People wonder about what goes on during event days.  They ask what I'm doing from sometimes 9 AM until 3 or 4 the next morning.  Here's a typical timeline.
9 AM I start looking at the room diagram and calculating the equipment needed.  Mostly, I'm counting the number of cables we'll need, what lengths, etc.  We have both electrical cords and data cords that allow our lights to communicate with each other.  And because we don't want a lot of excess cable laying in sight it's important that we plan very carefully.
10 AM  We start loading cases, testing equipment, packing the equipment.  Cable has to go into the trunks so that it's all easily accessible and visible on the site.  The lights have to have the correct clamps on them.  We make sure that the lights and controller all have the correct address, so they will communicate properly. Since every event is different, things have to be re-checked every week.
12 Noon.  We load the truck.  My mis-spent youth playing Tetris comes in handy as we make sure that everything fits safely.  Typically, we have more than one event per day, so it's important to load the truck(s) in the correct order, that the first event set-up is last on the truck.
1 PM.  Arrive at the first venue, assign tasks to the crew, explain the overall design, and get the event set up.  This is the part of the job I like the most.  Often there is something unexpected to overcome, and the challenges are always unique.  Set-up can take anywhere from 30 minutes to 4 hours and require from one to as many as 10 people. On days where there is more than one event, I'm travelling back and forth between events, making sure everything is done to the client's desires.  I always like to do a "reveal" with the client, but sometimes the guests are already in the room before they arrive, so it doesn't always happen.
6 PM – Midnight The parties are in full swing.  I'll check in again with each venue to see how things are progressing.  I try and take some photos of the event, grab some dinner, relax a bit, but not always.
11 PM I meet my crew back at the venue scheduled to end earliest.  We're ready to disassemble our equipment and remove it as soon as possible so that the venue can close up quickly.  They've been working a long day also.
1 – 3 AM  We're packing up at the other venues and loading trucks.
3 – 4 AM Back to the warehouse and the day is complete.
Once all events for the weekend are complete we can finally relax.  Until Monday when we start preparing for the next events.
Our main page:   www.chicagolightingdesign.com
The blog:  www.chicagolightingdesign.com/cgi-bin/blog