Imagine my delight when I found out I would be shooting Paris wedding photos!
That's why I always suggest asking about my destination wedding packages, because I might already be heading to the place you have in mind! The benefit is that the travel fees won't be an issue for you.
Anyway, it wasn't the full on wedding that I would have been happy to shoot, but more like an elopement than anything. Xavier and Randa wanted wedding photos before their official wedding happened, so it really was much like my elopement photography, but without the ceremony.
In fact, we did a two parter on the same day. The first part being the engagement photos. Always good to have those! You don't need every nice photo to be in your wedding clothes, right? The photos from their Paris engagement can be found here.
We saved the wedding photos for later, as the sun dropped lower in the sky and the Eiffel Tower became less obscured by haze. We chose the Pont Alexandre III Bridge for its gorgeous architectural features and to show off the Eiffel Tower in the background. I think it was an excellent choice that gave us a lot of variety without having to deal with huge crowds. It was fall and the trees were showing off their colors (mostly featured in the engagement shoot), but I have to say that Paris sure does look fantastique in black and white!
Now that Xavier and Randa are officially married, I can share their Paris wedding photos with you, along with their French/American love story. Be sure to read more about that from them in their own words at the bottom of the post.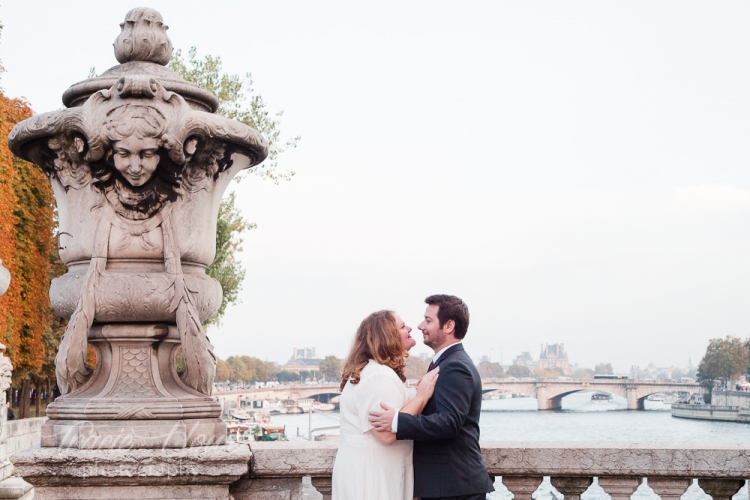 pinimage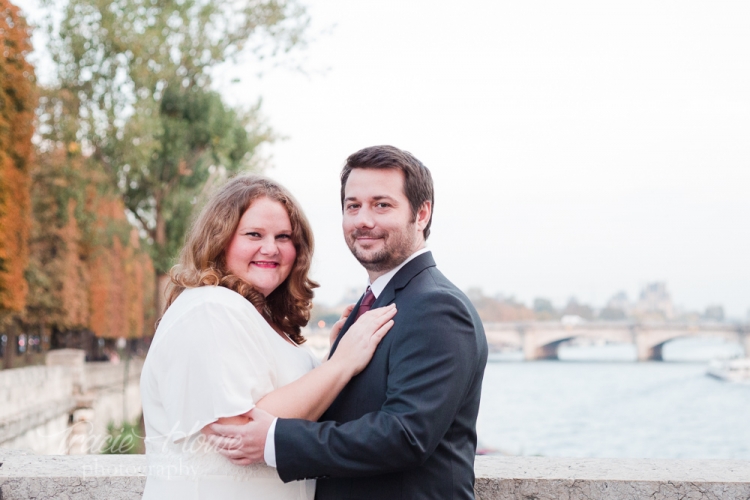 pinimage


pinimage


pinimage


pinimage


pinimage


pinimage


pinimage


pinimage


pinimage


pinimage


pinimage


pinimage
Tell the one thing you love most about each other.
R: His calm
X: Her energy
If you feel comfortable, share something silly or quirky that the other person does.
R: He often responds in non verbal ways, with a hmm, mhmm, uh-huh. It took me awhile to figure out what the sounds meant!
X: She makes a face when she looks in the mirror that isn't her natural smile… I can tell when she can see her reflection in the subway doors or my sunglasses because of the face!
Besides getting married, what's the one thing you most looked forward to on your wedding day?
R: Seeing all of our closest friends and family in one room.
X: Sharing special moments with our people.
Besides the honeymoon, what's the one thing you're looking forward to when the wedding is over?
R: Not having to spend evenings and weekends going through checklists!
X: We don't have to go back and forth with our wedding venue anymore.
What's your favorite wedding trend right now?
R: I can't keep up with the trends…but I loved advice on incorporating friends and personal touches into the ceremony. A friend led the ceremony, another played guitar. We also passed our rings for a warming/blessing around the entire group. Everyone said they felt they were really a part of the wedding, rather than just watching.
Where was your wedding? Was the location important? If so, why?
We wanted everything to be outside and for it to be intimate, which meant we couldn't have the wedding in Paris – the weather is too iffy. So we decided on an intimate wedding celebration in Provence among lavender fields and olive groves. The problem is that in France, the rules require you to officially get married in the city hall where you live – that meant a separate civil wedding in Paris for the bureaucratic side of things. So we signed our documents, said "oui" with our parents as witnesses, and went out for a celebratory lunch 7 months before we actually said "I do" in front of all our family and friends!
What's one thing you wish you would have known earlier in regards to planning?
A day-of coordinator is the best investment you can make… and the sooner you get them on board, the better.
Please share anything else of your wedding story that you would like to.
Only thing I can think of is the bilingual, multinational aspect to our story. Planning a wedding (a destination one at that – even from Paris), in another language, different culture, it's not always easy. Sometimes I can't believe we managed to pull it off! But through it all, we came together as partners to tackle the long to-do lists, endless French administration paperwork, countless cultural and linguistic translating, cultural missteps, parental expectations, and financial challenges to ultimately arrive at a day that was full of such joy and happiness, and we were that much stronger for it.