I feel so lucky to have met Laura and Nate. They are the best!! I hit it off with this East Coast couple right away, in front of the otter exhibit at Seattle's Aquarium, and now I'll be shooting their wedding!
They flew back out to Seattle for some final wedding planning and managed to squeeze in a good amount of time with me for their engagement session. I knew they would be fun to shoot, and I was not disappointed!
We started out at the Aquarium where we met and where they will be having their wedding reception. We then ventured out in the cold for some shots by the Seattle Great Wheel, but I tuckered out early from being sick. Fortunately they were available  a few days later for our original engagement destination at Discovery Park.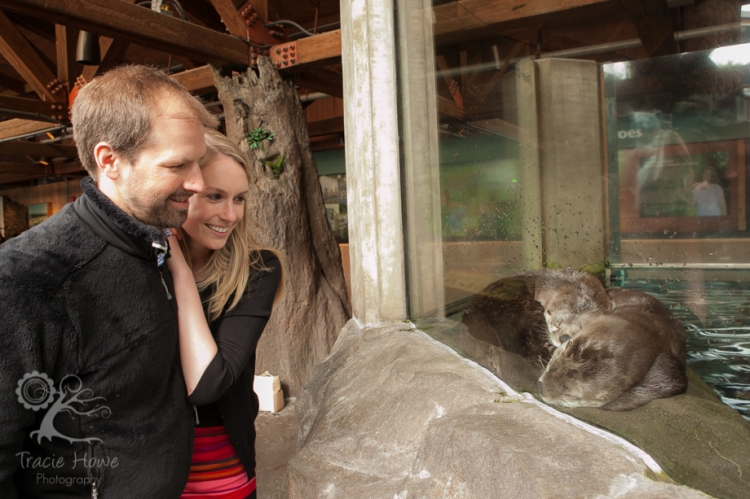 pinimage

pinimageAfter he gave her a piggy back ride, she had to do the same. Of course! 🙂


pinimage


pinimage


pinimage


pinimage


pinimage


pinimage


pinimage


pinimage


pinimage
I'm doing something new that I'm so excited to share! I'm getting stories directly from my couples to share along with their blog posts! Laura and Nate were the first to get back to me with their story, and I'm honored to be able to share it here:
•           How did you first meet?
Laura's version: "We met at Dean and Deluca in Georgetown, Washington, D.C.  on a sunny Sunday morning in August 2009.  I had just gotten back from Ethiopia, so was jetlagged and up earlier than usual; Nate had just finished an early morning ride with his cycling team.  They were sitting drinking coffee in front of me; I noticed his back (it was a good-looking back!) but didn't think much of it.  Yet one of his teammates had stashed his bike behind my chair; when they got up to leave, they had to ask me to move my chair.  I was reading the New York Times and one of them started leaning over my shoulder to read it, too (spoiler: it was Nate!).  We started talking and, two hours later, exchanged phone numbers.  Of course, neither of us had much of an idea of what the other one looked like; we were both wearing sunglasses and sitting down the entire time.  Thankfully, when we finally met up for dinner, we both passed muster!"
Nate's Version:  "Dean and Deluca (D&D) is common meeting place for cyclists in Washington, D.C. as it sells both the coffee and the pastries favored by Europeans for pre- and post-ride sustenance.  On Sunday, August 23, 2009, Nate returned to D&D after a ride to enjoy some coffee and to tell some of his teammates about the Mid-Atlantic Time trial Championship, which had taken place the day before.  Nate heard Laura, whom he could not see, engage in a couple of conversations.  Interested in who Laura was and why she drawing so much attention, he turned around and saw she was trying to read the Sunday New York Times.  He also noticed that his teammate Bruce's bike was directly behind her table. When his group parted company, he walked with Bruce to his bike and began talking to her (although he was temporarily distracted by her paper).  They talked for a couple hours, got sunburned, and decided that they liked each other enough to go out again."
•           If you feel comfortable, please tell a funny story that happened while you were dating.
Laura: "When I asked Nate what he wanted for his birthday in 2011, he said he would like us to sign up for an activity that we could do together.  We are both endurance athletes (Nate bicycle, me running).  Thus logical thing to do was a triathlon, though I told Nate that I didn't know how to ride a bike.  Not deterred, he built me a bike, complete with clipless pedals.  When the bike was ready, we met some of Nate's friends for an "easy ride" in a Washington, D.C. park.  But I really didn't know how to ride!  They went off on their own as we stuck to the parking lot to learn how to balance.  It eventually got a bit better, but I had repeated nightmares about bicycling all summer.  Nate kept me going, tolerated my non-stop swearing, and incentivized me by promising ice cream after each practice ride."
•           When did you know he/she was the one? Was there something that he/she did or said?
Laura: "I can't say there was a particular moment, but Nate has stood by me, incredibly patiently, throughout my law school craziness.  He has been supportive and kind, trustworthy and stable, for three years of long-distance.  Not many people would have been able to do that!"
Nate: "Very early on in our relationship, Laura took me to see a movie called "This Might Get Loud" about guitar players and their gear.  A fascinating film for me, but probably boring to people who have never played guitar or listen to guitar-based music.  The fact that Laura was so focused on what I'd be interested in made me happy."
•           Please tell the story of the proposal.
Laura: "I was in Seattle for a summer job, and Nate came and visited the last week.  On his last day in town, we took a drive to Mt. Rainier, where he proposed.  I had a strong hunch it was coming; I knew there was a ring and his friends kept texting him to see if it had happened yet!  On the way home, we stopped by Azteca for enchiladas and celebratory margaritas (my choice), a food choice that raised eyebrows among some of our more cultured friends but it fit us to a T.
Nate: "Plus, Laura had already bought a wedding dress!"
•           What do you love about your engagement shoot locations(s)?
Laura: "We were able to do a two-part shoot, the first down at the Aquarium/ waterfront (where our wedding will be) and the second at Discovery Park.  The first location was great because we were able to get a sense of what wedding day photos might be like; the second was meaningful because we both love the outdoors and I grew up playing in Discovery Park with my family.  Plus, my dear aunt was able to join us at the second stop, and it was great to be able to involve her.  (She came up from Portland another time to help me pick out my dress, too!)"
Nate: "I am not very photogenic.  I tend to be the guy who sneezes when someone takes a picture.  The engagement shoot locations let me relax and be myself, which meant there were actually some good pictures of us."
Laura and Nate, I can't wait to shoot your wedding! You guys are too cute. And fellow goofballs, just like me. 🙂